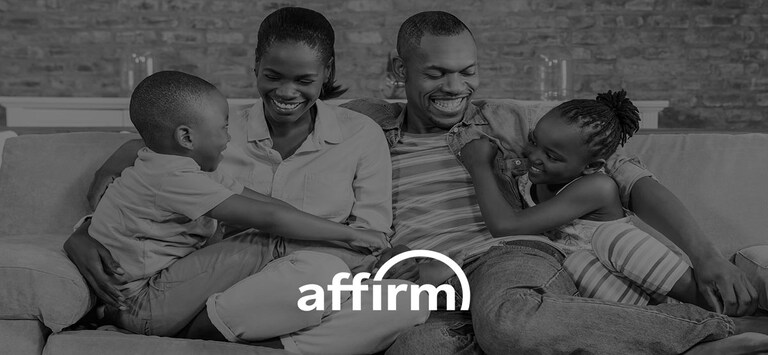 Sump Pumps Financing With Affirm
Shop Sump Pumps Now and Pay Later With Affirm
We have partnered with Affirm to give you a simple way to buy the sump pump you need now and pay for it later.

What is Affirm?
Affirm offers to finance purchases made online and is a financing alternative to credit cards and other credit payment products. With Affirm, you can buy and receive your purchase now, and pay for it in fixed monthly installments. Learn more about Affirm Financing.
Shop & Add To Your Shopping Cart
Shop our site and add what you want to your shopping cart. The shopping cart value must be over $249 to qualify for Affirm financing.
Depending on the purchase value, you may choose financing terms to pay in fixed monthly installments:
3, 6, or 12 months for purchases less than $1,500
12, 18, or 24 months for purchases $1,500 — $2,499
12, 24, or 36 months for purchases $2,500 or more

Select Affirm as a Payment Option
Once you're finished shopping, and you've added all of your selections to your shopping cart, check out. As a payment option, select Affirm. You'll be redirected to Affirm. Follow the steps provided there to apply. Once your loan is complete, your order will be processed automatically.
Affirm FAQ's
What is required to have an Affirm Account?
Affirm offers clear, simple financing for your Sump Pumps Direct purchases in just a few clicks:
Be a resident of the U.S. (including U.S. territories)
Be 18 years or older (19 if you're a ward of the state in Nebraska)
Have a Social Security number
Have a valid US mobile number that can receive SMS texts. The phone number must be registered in the customer's name.
Provide name, email, valid mobile number, birthday, and last 4 digits of SSN to help us protect and verify the customer's identity.
Does Affirm do a credit check, and how does it impact my credit score?
Affirm performs a "soft credit check" which will not affect your credit score. The soft credit check only allows Affirm to help verify your identity and determine your eligibility for financing. If you apply for more loans with Affirm, we may perform additional 'soft' credit checks to ensure that we offer you the best financing options possible, but there is no effect on your credit score.

Why Was I Denied Financing by Affirm?
If Affirm was unable to approve your application, Affirm will immediately notify you of the decision and denial reason via a secured message. For your privacy, only Affirm can provide information regarding your financing and application status. If you have an existing account, you may log into your account at www.affirm.com/account or contact Affirm via email at help@affirm.com for further information.

Why was I prompted for my checking account information?
Affirm sometimes requires additional information to consider a credit application. Such information may include an active checking account, which helps us verify a customer's identity and ability to repay the requested loan. If the customer was prompted for this information but does not provide it, Affirm will be unable to approve the credit application.

Why was I prompted for a down payment?
We try hard to approve every purchase with Affirm but sometimes we can't approve the full amount. When this happens, we provide a debit card down payment option so that the customer may still complete their purchase right away.

How do I make my payments?
Before each payment is due, Affirm will send you reminders via email and SMS that will include the installment amount that is coming due and the due date. You can also sign up for autopay so you don't risk missing a payment.

Please follow these steps to make a payment:
Go to affirm.com/account
Enter your mobile number where you will be sent a personalized security pin.
Enter this security pin into the form on the next page and click "Sign In."
You'll now see a list of your loans and payments coming due. Click on the loan payment you would like to make.
You can make a payment utilizing a debit card or ACH bank transfer.


Was this article helpful?