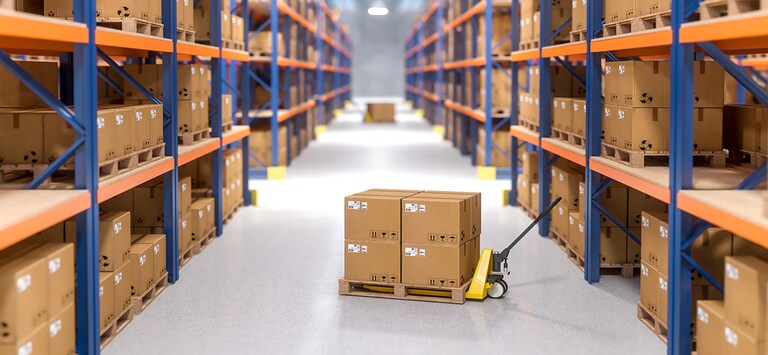 Sump Pump Shipping Guide
How To Get Free Shipping On Sump Pumps
Sump Pumps Direct delivers your products fast and hassle-free. We are proud to offer Free Shipping* on thousands of qualified products within the lower 48 states.
*Free Shipping subject to change. Not available on all products, e.g., overweight/oversized equipment, remote areas, etc. See product pages for details.
How Will My Products Ship?
Products ship using various methods and come either directly from our warehouse or from the manufacturer. These methods will appear in the cart or at checkout before completing an order.
Typically, orders over 100 pounds will ship freight, while smaller, lighter packages ship via ground. Becoming familiar with shipping methods helps inform you of the requirements your order may have for delivery.
Scheduled Freight Deliveries: For detailed information on how to schedule and receive a freight shipment, watch the video below.
"No Signature Required" Freight Deliveries: Please be advised that some freight carriers do not require a signature and will deliver your order without someone present at the time of delivery.

You will receive a shipping notification from the carrier if a delivery appointment is required, or if it will be a "no signature required" drop-shipment with an expected delivery date. Unfortunately, we are unable to alter signature requirements as they are set by the carrier.

Advice for Receiving Your Order
IMPORTANT: When you receive your order and before attempting to use any product, it is critical to check for both visible and concealed damage. You should also look to make sure that no parts are missing or broken. If you discover an issue, you must let us know right away. Watch the video below for details.
How To Handle Shipping Damage
Roads aren't perfect, and on rare occasions, a package can get bumped. In those cases, it's best to take a picture, refuse the delivery, and record the damage on the driver's bill. Some concealed damage may not be readily apparent, so you should inspect the shipment thoroughly upon receipt. Next, let us know immediately, within two days, so we can make arrangements to get you a replacement as quickly as possible.
Lift-Gate Service & Curb-Side Delivery
A liftgate is a hydraulic platform affixed to the back of the truck that allows it to safely lower the product from the truck onto the street, also known as "curbside" delivery.
Depending on the size, most products weighing more than 100 lbs. ship via semi-truck. We strongly recommend selecting the "Lift-Gate Service" checkbox during checkout if you do not have a loading dock or forklift to unload your shipment off the trailer safely.
Due to liability, trucking companies will not back into residential driveways or move the product from the curb to your doorstep. Please read the section below about our "White-Glove Service."
White-Glove Service
Some customers live in unique areas or have special circumstances that require extra care to get their products delivered.
If you require extra delivery assistance, we offer a White-Glove Service upon special request. With White-Glove Service, a mover will transfer your product from the curb to your garage or predetermined place where you need it.
Some reasons to get White-Glove Service include:
Customers that cannot move or lift heavy packages
Crated items that require disassembly and uncrating (e.g., riding lawnmower)
Placing equipment for installation (e.g., Standby generator, HVAC equipment)
The road is not accessible by a trailer, e.g., cul-de-sac, steep drive, narrow road, or dirt road
Remote delivery location
The cost of White-Glove Service depends on the delivery service selected, the size and weight of the equipment, and the delivery location. If your order includes items that are too big for a liftgate, we can offer delivery via flatbed with a forklift, for an extra fee, to most areas. Please contact us for a quote.
---
When Will My Order Ship?
We make shipping notifications simple. After you place an order, you will receive an
order confirmation email
. Your order will remain in PROCESSING status until it is shipped, at which point you will receive a shipping notification email. If you have multiple items on your order, you may receive more than one tracking number as the items may ship separately. To check the status of your order,
click here
.
What if I don't get a shipping notification?
If you do not receive a shipping notification after the specified processing time but have received an order confirmation email, it means your order is still being processed. If you did not get an order confirmation email, please
log into your account
and verify your email address on the order.
What is the difference between processing and shipping times?
Processing time is the amount of time it takes after payment has been verified, for your order to be physically picked, packaged, crated or palletized, wrapped, and loaded out the door onto a carrier's truck.
Shipping time is how long it takes for the shipping company to deliver your product to you once they have received it from the manufacturer or us. When placing an order, you will see lead times for both processing and shipping for in-stock products.
If an item is shipping directly from the manufacturer, you will see "Factory-Direct," and they will provide lead times. Shipping transit times start once your order leaves our warehouse.
Transit times are usually determined by several factors, like your location, the product's availability, weather conditions, and the shipping company's delivery availability. Due to those factors, transit times are not guaranteed and may change.
What if my product is on backorder?
Not to worry. We use a state-of-the-art, real-time inventory system that checks our warehouse stock and automatically updates our site daily. However, products that are currently listed as backordered will display estimated ship times from the manufacturer. You may place your purchase, so you will be on the list to receive it when the product becomes available. You may also elect to be notified when the item is back in stock or select another product.
Can I delay shipment?
All shipments are expected to be delivered by our carrier partners within 48 hours of arrival at the delivering/local terminal. Any shipment that needs to be held longer than this will most likely incur storage fees that will need to be paid by the customer/recipient. The fees will vary depending on the carrier and the number of days the shipment is held. If you need to have your shipment delayed, please reach out to us to help set up your delivery.
Expedited Shipping
Your order can arrive as quickly as the next business day once it ships from our warehouse. We offer expedited delivery on all ELIGIBLE IN-STOCK PUMPS. Just look for "Next-Day Air Available" to see if the equipment is eligible.
While we will do our best to prioritize expedited orders, you should expect your order to ship within the lead times noted on our product pages.
---
Holiday Shipping Deadlines
The holidays are a busy time for shipping, even when there isn't a global pandemic interrupting supply lines. To increase the chances of getting your order in time for the holidays, we recommend placing them a few weeks in advance.
Deadlines for Each Shipping Method
All in-stock equipment that is shipped from our warehouse will display lead times for processing and shipping. In general, freight takes at least five business days for delivery, under ideal conditions, while ground shipping may qualify for expedited delivery.
Below are date suggestions for placing orders in time for Christmas:
LTL/Freight Shipping: Order by Friday, December 9th @ 12:00 PM CST
Ground Shipping: Order by Friday, December 16th @ 12:00 PM CST
Second-Day Air: Order by Monday, December 19th @ 12:00 PM CST
Next-Day Air: Order by Tuesday, December 20th @ 12:00 PM CST
These dates are provided as estimations, please refer to the shipping page during checkout for up-to-date delivery estimates.


---
Shipping Fees & Restrictions
Expedited Shipping Fees
Expedited orders will receive priority processing. However, the fees paid for Next-Day and Two-Day Air are non-refundable. Carriers will do everything in their power to deliver your order on time. Still, if they are experiencing shipping delays due to severe weather, mandatory evacuations, increased demands, etc., they cannot refund the fees paid as they are still providing the expedited service.


Remote Area Surcharges
Within the contiguous U.S., a few ZIP codes require additional services to facilitate delivery. If you are one of the few who happens to live on an island or unique area, we can still ship to you. However, depending on your ZIP code, you may see a "Remote Area Surcharge" while checking out. The shipping company will determine whether you live in a remote area and the appropriate shipping fees required.
Re-consignment Fees
Changes to the delivery address requested after the product ships will incur a re-consignment fee.
CARB & DOE Requirements
We cannot ship some gas-powered equipment to California because it may not meet the California Air Resources Board (CARB) requirements. To see which products are eligible, please log into your account, or enter your ZIP code on the website while shopping.
For HVAC equipment, efficiency requirements, like SEER/HSPF/Low NOx, are based on region, so it's important to know which heating and cooling units conform to your region's guidelines. We do our best to provide you with compliant equipment based on your ZIP code, so please be sure to be logged into our site or enter your zip code while shopping.
Alaska & Hawaii
We can ship most items to Alaska and Hawaii except hazmat items banned from air transport like combustibles, batteries, fuels, etc. Because of the extra shipping costs, we cannot offer "Free Shipping" to these states. Standard shipping rates will be added to the shopping cart when checking out. If an item is in stock and available for ground shipping, you may select expedited shipping. Please be sure to log into your account or add your ZIP code for accurate shipping rates.
International Shipments
Due to regulatory requirements, we cannot ship directly to locations outside the United States, including Canada and U.S. territories.
For customers residing in the U.S., we can ship to freight forwarders inside the United States. You will be responsible for complying with all relevant laws and regulations and paying all costs associated with the international shipment.
Some products may not be eligible for shipment to freight forwarders.
---

NEXT: Visit Our Help Center
Was this article helpful?