If you're new to effluent pumps, they're used to pump "gray water," which is just a fancy way of saying "dirty water."

This includes laundry water, septic fluids, or other waste water.

They're typically used to pump effluent water from a septic tank to a leech field.

For raw sewage, a sewage pump or grinder pump is recommended to prevent clogging.

Sizing Your Pump
If you're replacing an old effluent pump, you can typically use the same horsepower that you had before. That said, you should also play close attention to the GPH or gallons per hour rating as they can vary by horsepower.

However, if your pump wasn't keeping up, you may need to upgrade to a higher horsepower so it can keep up.

If you were able to get several years of service out of your old pump, chances are that it's the right horsepower to choose. If your previous pump stopped working after a couple of months, you may want to consider a different horsepower. It's possible that your old pump may have been too weak or too strong for your application.

Below is a table that can help give you a basic idea of the horsepower you need in a pump, based on the most common characteristics of a septic system.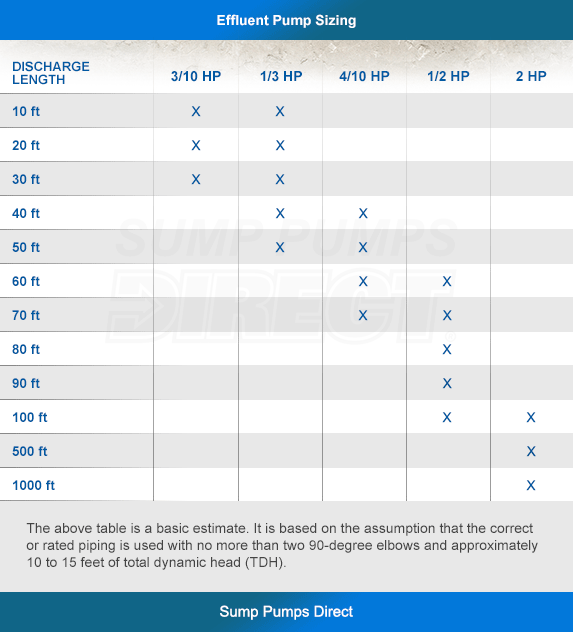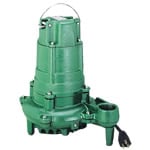 Housing Material
Effluent pumps are available in a variety of different housing materials, depending on your preference. Stainless steel and brass pumps can be found on the market, but the most common are going to be cast iron and thermoplastic.
Cast iron housing offers rugged durability and added weight, whereas thermoplastic offers affordability and lighter weight.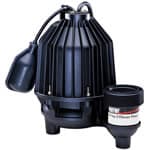 Cast iron effluent pumps are built to last, and can stand up to heavy-duty use. They're a must-have in commercial applications, and a desired style for homeowners looking for longevity.
Thermoplastic pumps hold up well against corrosion, and they're also more affordable. They're ideal for less demanding applications if you're looking for a more economical choice. They're also going to be easier to install or remove as they weigh less.

NEXT: View & Shop All Effluent Pumps