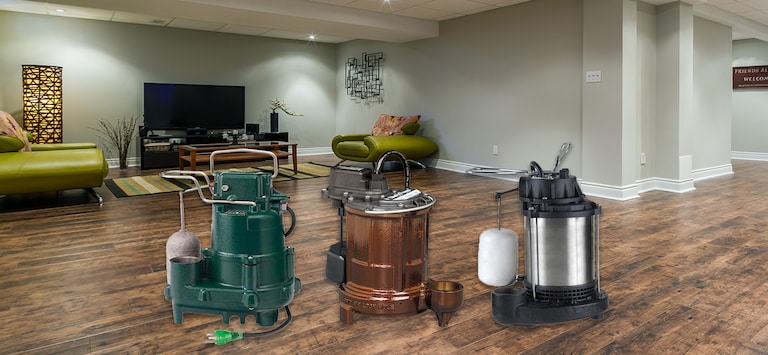 The Best Sump Pumps of 2023
Best-Selling & Top-Rated Sump Pumps
The right sump pump can mean the difference between a dry home and a flooded mess, but choosing one isn't always straightforward. That's why we put together the Best Sump Pumps of 2023 based on our best-selling, highest-rated models with expert recommendations to ensure you get the perfect type for your needs.
If you're not sure what kind of sump pump you need, check out our Sump Pump Buyer's Guide to get started and come back to the list for an expert recommendation.
---
The Best Sump Pumps of 2023
| Best Sump Pump | Best Backup Sump Pump | Best Combination Sump Pump | Best Grinder Pump |
| --- | --- | --- | --- |
| | | | |
---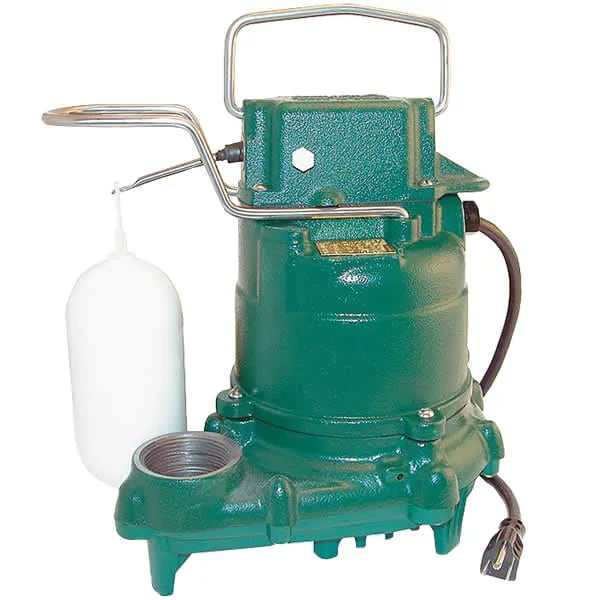 Built in the U.S. and known worldwide as the "Mighty Mate," the Zoeller M53 automatic submersible sump pump lives up to its reputation. Its 1/3-horsepower, 120-volt motor can lift water 5 feet at 2,680 gallons per hour (GPH) and provides a maximum vertical lift of 19.25 feet. In short, you can count on it to keep up with water flowing into the basin in most residential applications.

Made of cast iron, the motor, pump house, and switch case are designed for rapid heat dissipation and extended life. The pump base, composed of engineered thermoplastic, offers years of reliable operation. The oil-filled motor comes with thermal protection to prevent overheating, and a carbon and ceramic shaft seal keeps water out to extend the pump's life. Besides this, the Zoeller M53 is designed to be clog-resistant, capable of passing 1/2" diameter solids and eliminating the need for a protective screen.
Overall, this pump has been the go-to for decades thanks to its power, reliability, and performance, which is why I'm calling it the best primary sump pump of 2023.
| Spec | Details | Rating |
| --- | --- | --- |
| Construction | Cast iron switch case, motor & pump housing; Engineered thermoplastic base; Carbon & ceramic shaft seal; Clog-resistant design | |
| Float Switch Design | Vertical; Mechanically operated; Solid and buoyant polypropylene material | |
| Reliability | Thermally-protected motor; Can pass ½-inch spherical solids; Made in the U.S.A. | |
| Overall Value | A time-tested pump at a great price. Can't beat the value. | |
Sump pumps are your home's primary line of defense against potentially catastrophic floods. You definitely want a powerful, reliable pump to keep the water out. That's where we come in. Our best sump pumps are designed to keep your basement dry for years to come.
See Full List
---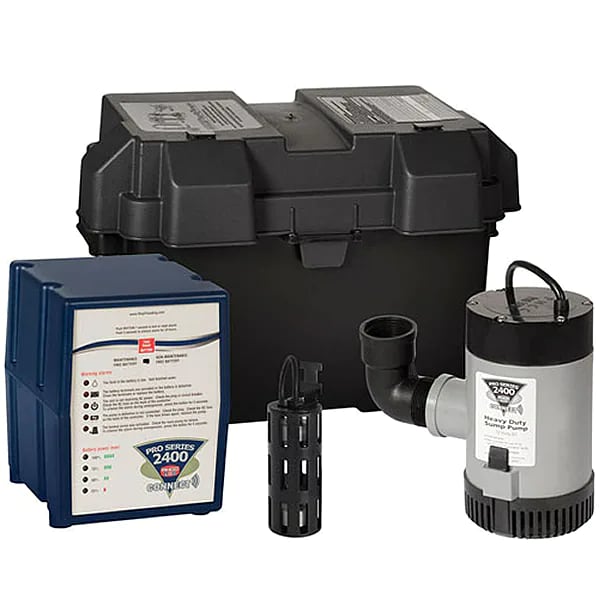 For a battery backup sump pump, this one packs a punch. When your primary pump fails, the Pro-Series PHCC-2400 kicks on and can evacuate approximately 40 gallons of water per minute at a 10-foot lift. Its 13-amp battery charger can charge standard and maintenance-free batteries and quickly recharges the battery when power is restored.
One of the great features of this system is its ability to run on 120-volt AC power when power is on. It automatically switches to 12-volt DC battery power when AC power fails, and it includes an exclusive monitoring system with a weekly self-test. This system can also alert you remotely with the separate purchase of the PHCC Pro Series Connect WiFi Module.
With a three-year warranty, it's easy to see why we recommend this product. Just don't forget the batteries. This system can operate with one or two 100-amp-hour or greater batteries, usually a Group 27 or Group 31 deep-cycle marine AGM or wet cell battery. It also comes with dual float switches for added redundancy. Overall, the PHCC-244 makes a great backup plan for flood protection.
Spec
Details
Rating
Built-In Redundancies

Dual float switches mounted within a protective cage; Can accommodate 1 or 2 batteries (Sold Separately)

Monitoring Capability

Computer monitors power conditions and battery level;

Sounds alarm & flashes during failure or required maintenance

Battery System

Runs on both AC and DC power; 13-amp battery charger quickly charges standard & maintenance-free batteries

Overall Value

Offers the best flooding protection possible for the average homeowner at a fair price.
Even the best primary sump pump can struggle during heavy downpours or power outages. That's why backup sump pumps exist--to kick in and save the day in an emergency. Our list of the best battery backup sumps will help you find the perfect flood failsafe.
See Full List
---

Get the best of both worlds with the Pro Series PS-C33 combination sump pump, which includes both a primary and backup pump. When the power goes out, the backup pump (which is the Pro Series PHCC-2400 recommended above) will kick in for uninterrupted protection. At 1/3-horsepower, the primary pump offers a very capable 3,000 GPH, while the battery backup pump will handle 2,400 GPH at a 10-foot head.
The Pro Series' exclusive monitoring system tracks battery functions and detects irregularities, sounding alarms as needed. This system also includes its own pump controller with a caged dual float switch for redundancy and added protection.
The PS-C33 is designed to operate with one or two Pro Series model B12-100 batteries and will run the 12-volt pump for up to 7 hours continuously with a single battery or 24-36 hours non-continuously. You can increase those run times with a second battery if you choose. Overall, I highly recommend this combination unit for its contractor-grade performance at a reasonable price tag and 3-year warranty.
| Specs | Details | Rating |
| --- | --- | --- |
| Built-In Redundancies | Dual float switches mounted within a protective case; Can accommodate 1 or 2 Batteries (Sold Separately) | |
| Monitoring Capability | Detects irregularities, sounds an alarm, & pinpoints problems; Alarm can be silenced | |
| Battery System | Runs on both AC and DC power; Maintains and recharges battery automatically | |
| Overall Value | Exemplarly two-pump system for less than if you bought a primary and backup pump separately | |
Combination sump pump systems offer a primary and backup sump pump all in one convenient package. They're the ultimate peace-of-mind solution for keeping water out of your home.
See Full List
---

When you need a grinder pump, nothing quite packs a punch like the PRG101A - 1 HP ProVore® Residential Grinder Pump with a 2-inch discharge. It will work in any residential grinder application and can pump 2,700 gallons per hour at a 5-foot lift, which is one reason why it makes our first choice. You also have the option to run it at the standard 115 volts or 230 volts with 20-amp circuits.
It is built with an epoxy-coated cast iron frame to handle the toughest applications reliably, year after year. This pump is tough, using Liberty Pumps' V-Slice® cutter technology (440 stainless steel) on its 2-vane cast iron impeller blades to provide superior shredding capabilities over radial cutters. It will easily shred through difficult solids like feminine products, rags, towels, and wipes that could otherwise burn out lesser pumps or cause clogs deep in the pipe.
And speaking of reliability, this pump features a 1 HP motor that won't quit when things heat up - literally. The rugged, thermally-protected motor is hermetically sealed and permanently lubricated - no maintenance is required. The frame also includes a non-corrosive stainless steel rotor shaft with a unitized silicon carbon seal and fasteners that increase the pump's lifespan in any application. Another welcomed feature is its adjustable, mercury-free wide-angle piggy-back tether float switch that reliably switches on at 12-16 inches in the pit and pumps to below 6 inches of water after it cycles. It includes a manual override in case you need it.
When it comes to convenience, the quick-disconnect 10-foot cord allows for easy cord replacement without breaking motor seals, so if the cord is ever damaged, you're not replacing the entire pump. Not that you'll have to anytime soon, though, because this pump also comes with a 3-year limited warranty to protect your investment. Overall, this pump delivers consistently high performance and is built to last.
| Spec | Details | Rating |
| --- | --- | --- |
| Construction | Epoxy-coated cast iron frame; stainless steel rotor shaft and unitized silicon carbon seal; corrosion-resistant stainless steel fasteners and permanently lubricated; clog-resistant design. | |
| Float Switch Design | Adjustable, vertical, mercury-free wide-angle piggy-back tether float switch. | |
| Reliability | Thermally-protected motor; can pass virtually any 2-inch solids; cord can be replaced separately; manual override. | |
| Overall Value | A time-tested pump at a great price. Can't beat the value. | |
Grinders, macerators, and effluent pumps are critical for basement bathrooms and other applications where you're pumping out sewage and dirty water. Find the best sewage pump for your needs!
See Full List
Was this article helpful?