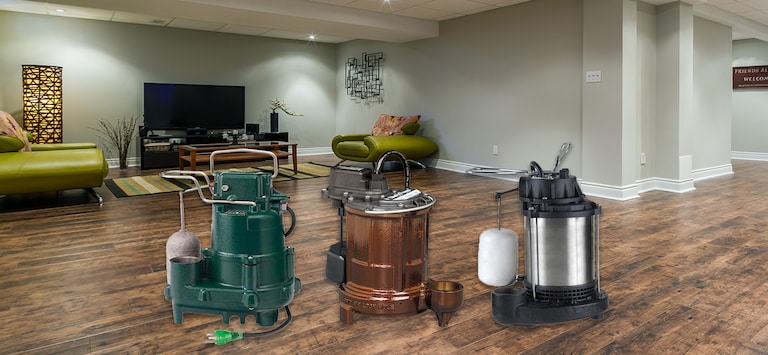 The Best Sump Pumps of 2023
Best-Selling & Top-Rated Sump Pumps
The right sump pump can mean the difference between a dry home and a flooded mess, but choosing one isn't always straightforward. That's why we put together the Best Sump Pumps of 2023 based on our best-selling, highest-rated models with expert recommendations to ensure you get the perfect type for your needs. 
If you're not sure what kind of sump pump you need, check out our Sump Pump Buyer's Guide to get started and come back to the list for an expert recommendation. 
---
Best Sump Pumps List

You can scroll through the full recommended list of sump pumps below, including primary, backup, and combination models, or simply click on the one you want to see right away.


Best Submersible Sump Pump
1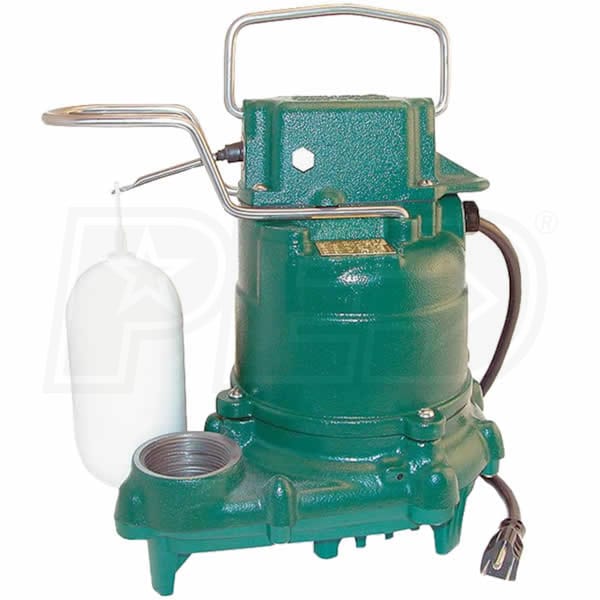 Expert Review
Tired of having to run to the Orange Giant to replace the store brand sump pump you purchased? If so, check out this pump and end the pump-runs. The M53 is well known among plumbers as the sump pump of choice for the average homeowner. Zoeller is known for their quality and dependability and this pump is a big reason for that reputation. With a Cast Iron Switch Case, Motor & Pump Housing the pump is built to last and can pump out 2680GPH at 5 Feet. The unit has a clog-free design that can pass 1/2" diameter solids. The M53 comes with a three-year warranty and a great reputation that will put your mind at ease.
Features
Automatic Submersible Sump Pump
Ideal for average water removal
Cast Iron Switch Case, Motor & Pump Housing
Designed for rapid heat dissipation and extended life
Engineered Thermoplastic Base
Offers years of reliable, trouble-free operation
Thermally Protected Motor
Oil-filled and hermetically sealed to prevent overheating
Carbon & Ceramic Shaft Seal
Assures maximum protection for extended pump life
---
Best Pedestal Sump Pump
2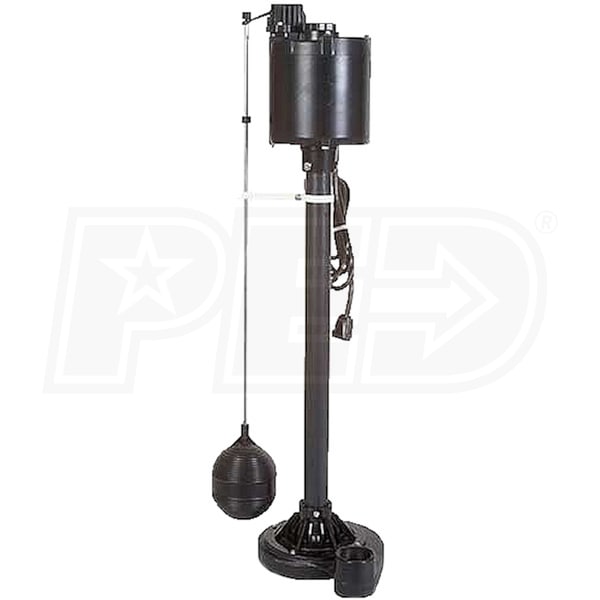 Expert Review
If you haven't heard of Zoeller Pumps before, you probably live in an area where sump pumps aren't needed. They have been making pumps for the last 75+ years, and if you haven't owned one, you probably know somebody who has. Zoeller is one of the largest manufacturers of pumps in the US. They stand behind their products and offer a wide selection of sump, sewage and utility pumps. This Model M84 gets our recommendation for Pedestal Pumps for a few reasons. They don't call it the Zoeller "Old Faithful" Cast Iron Pedestal Pump for nothing. The cast iron pump housing & base construction w/ PVC column minimizes corrosion in high mineral content water and the permanently lubricated upper sleeve bearing w/ lower bronze bushings offer quiet, smoother operation for extended pump life. Pedestal pumps are becoming less and less common, but there are still options out there. Try the M84 Old Faithful from Zoeller, it's the best pedestal pump we have to offer.
Features
Zoeller "Old Faithful: Cast Iron Pedestal Pump
Traditional design for a reliable basement sump pump
Energy Efficient 1/2 HP SP Motor - Only Uses 7.3-Amps
Air-cooled, Thermal overload protection w/ Auto reset
Cast Iron Pump Housing & Base Construction w/ PVC Column
Minimizes corrosion in high mineral content water
Adjustable, 12" Cycle Vertical Float Switch (Factory Set @ 9")
Max "On" @ 16" and Min. Off @ 4"; Easily set your perfect cycle
Non-Clogging Vortex Plastic Impeller
Top intake design, no screens to clean or replace, passes lint
---
Best Cast Iron Sump Pump
3
Expert Review
Built in the U.S.A., this Liberty model 257 is a well-known name among plumbers and is a superior pump for the money. This cast iron pump is very efficient with 1/2 the running and starting amps of most other 1/3HP pumps in the same league and with a pumping capacity of 2700GPH at a 5-foot lift and the magnetically operated vertical float switch, this pump is one mean sucker! The 257 will handle any light duty applications with ease. Unlike many other pumps out there, this pump features a 16-gauge quick-disconnect 10-foot power cord for easy replacement if necessary and upper & lower ball bearings that allow for a smoother and cooler operating environment which translates to a longer motor life. Coupled with a 3-year warranty, this pump gets our recommendation.
Features
Automatic Submersible Cast Iron Sump Pump
A "workhorse" designed for years of reliable operation
Liberty's UNI-BODY Casting w/ Epoxy Coated Powder Coat Finish
A solid, one-piece housing that eliminates lower motor seal
Magnetically Operated Vertical Float Switch
Provides automatic operation in sump pits as small as 10-inches
Rugged, Energy Efficient & Thermally Protected 1/3 HP Motor
Hermetically sealed, permanently lubricated design
High-Temperature, Engineered Polymer Impeller
Vortex style design for superior solid handling
---
Best Battery Backup Sump Pump
4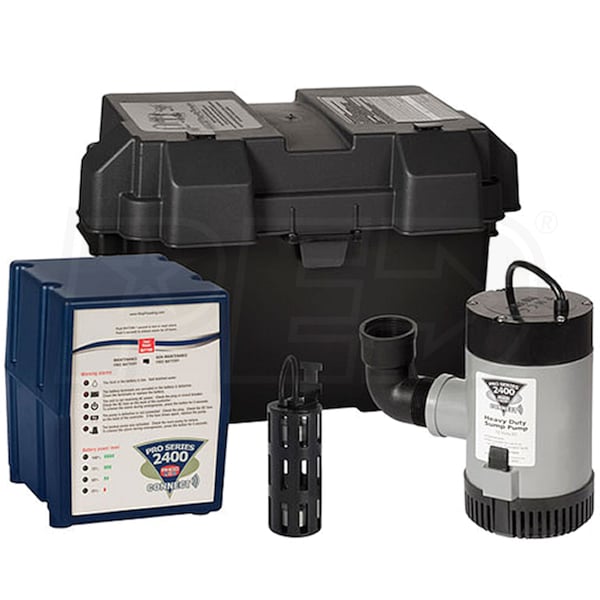 Expert Review
This system will blow you away for the cost and the features included. The Pro-Series PHCC-2400 Battery Back Up Sump Pump System will evacuate approximately 40 gallons per minute at a 10-foot lift! The 13-amp battery charger has the ability to charge standard & maintenance free batteries and quickly recharges the battery when power is restored. One of the great features of this system is its ability to run on 120-volt AC power when power is on. It switches to 12-volt DC battery power when AC power fails, automatically and it includes an exclusive monitoring system w/weekly self-test. This system can also alert you remotely with the separate purchase of the PHCC Pro Series Connect WiFi Module. With a 3 year warranty, it's easy to see why we recommend this product. Just don't forget the batteries. This system requires 1 or 2, 100 Amp Hour or greater batteries. This is usually going to be a Group 27 or Group 31 Deep-Cycle Marine AGM or Wet Cell Battery.
Features
Exclusive Monitoring System w/ Weekly Self-Test
Indicator lights for remaining battery life (100%, 75%, 50%, 25%)
Backup Sump Pump
Runs on 120-volt AC power when power is on
Switches to 12-volt DC battery power when AC power fails
13-Amp Battery Charger
Computer-controller monitors power conditions and battery level
Pumps 3900 gallons-per-hour @ 0' lift (or 2400 GPH @ 10' lift)
BATTERY & BATTERY ACID IS SOLD SEPARATELY
Shuts off completely to prolong the life of the battery
Pro Series Dual Float Switch w/ Protective Cage
Added redundancy for protection and piece of mind
Has the ability to charge standard & maintenance free batteries
Quickly recharges battery when power is restored
Sounds alarm & flashes during failure or required maintenance
Empties the sump pit in seconds after a malfunction or outage
---
Best Smart Sump Pump
5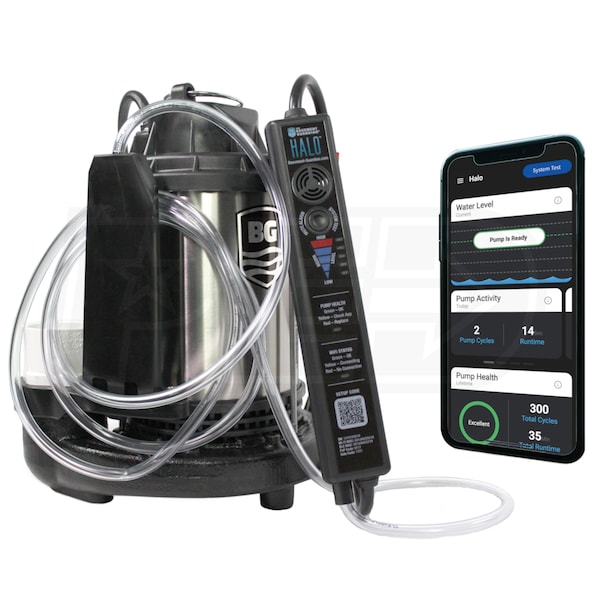 Features
Wayne® Basement Guardian Halo™ Premium Digitally Smart Sump Pump
Engineered and Assembled in the USA
Never Worry About Your Basement Again!®
Track your pump's health and get a replacement notification before a problem arises
2nd Generation Apple IOS & Android App
See the water level in your sump pit in real time
Track your pump's history, know when and how hard your pump is working
Keep your software current with automatic updates
Epoxy-Coated Steel & Cast Iron Construction Pumps
Corrosion-resistant design provides long life in sump applications
3/4 HP, Thermally Protected 120V PCS Motor (Primary)
Energy efficient, oil-filled design for quiet operation & extended motor life
---
Best Smart Backup Sump Pump
6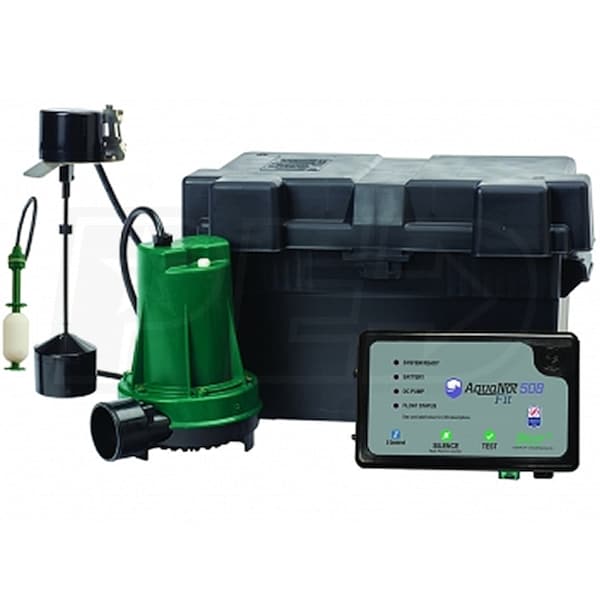 Expert Review
Zoeller is the name you hear most when it comes to pumps and this latest entry is the new & improved battery backup with higher head capability, higher pumping capacity, a re-designed, U.S Built pump and more bells and whistles on the controller, including an app based monitoring system. This pump will provide a 30GPM capacity at a 10-foot head with a max head of 20 feet! The pump is built by Zoeller at their Louisville, KY. plant and the controller have undergone a total re-design which now includes a Zoeller run and operated App that provides alerts on system operation, built-in alarms with Zoeller's own Z Control Cloud connectivity which allows for testing the system, running the system, silencing alarms, resets & more from your mobile device. The Mobile App also allows for total peace-of-mind with *Zero Monthly Monitoring Fees. This backup system will work with a wet cell or maintenance free 12V deep cycle and comes with a 3 year warranty. You'll never go wrong with Zoeller and when you consider all that this system has to offer at a very reasonable price.
Features
Zoeller Aquanot® Fit Battery Backup Sump Pump System
Internet-connected system with Z Control® Technology
Z Control® Cloud - Test, Run, Silence, Reset & More
Easily control your pump from your mobile device
Mobile App allows for total piece of mind
*Zero Monthly Monitoring Fees*
Aquanot® Active 508 DC Controller w/ Z Control® Wi-Fi Gateway*
Self-testing diagnostics for added protection
Allows for email /text / push notifications of alarms and alerts
Plus remote access and control, and online configurability
Built-In Alerts For High-Water, Pump Cycled, Faults & Issues
Easily silence/reset alarm with the push of a button
7-Amp Automatic Battery Charging System
Self-contained design w/ Battery burnout & overcharge protection
---
Best Combination Sump Pump
7
Expert Review
If the Basement Watchdog 1/2HP model BW4000, or some of the smaller combination systems that we offer doesn't quite make the cut for you as far as pumping capacity, this system will fill the void. The primary pump offers a very capable 3000GPH and the battery backup pump will handle 2400GPH at a 10-foot head. Not bad for a system at this attractive price! Besides the Pro Series' exclusive monitoring system that "watches" over the battery functions and detects irregularities, it pinpoints problems and sounds alarms as needed, this system also includes their own pump controller model DFC1 with caged dual float switch, for redundancy and extra added protection. This system is designed to operate with one or two Basement Watchdog model 30HDC140S batteries and will operate the 12-volt pump for up to 7 hours continuous with a single battery or 24-36 hours non-continuous. You can double those run times with a second battery if you choose. I'm giving this system our recommendation rating because it's a great contractor grade system and it also includes a 3-year warranty.
Features
Protect Your Basement from Flooding
Provides both primary and backup pumping capabilities
Primary pump will operate as long as it is receiving A/C power
A/C fails or excessive water into sump than pump can handle
The backup sump pump will begin pumping automatically
Exclusive Monitoring System
Detects irregularities, sounds an alarm, & pinpoints problems
Maintains and recharges battery automatically
Alarm can be silenced during a power outage
Output terminals for connection to a security system/auto-dialer
Combination System Includes:
1/3 HP-PSC Primary Pump (3000 GPH @ 10' Lift)
PHCC 2400 12V Backup Pump (2400 GPH @ 10' Lift)
Backup system controller/charger with fluid sensor
Primary pump controller (DFC1.5) with caged dual float switch
2 Check valves & 1-1/2" Rubber Union
Sump Foot™ - raised platform for both pumps
Battery Box Included
Can accommodate 1 or 2 Batteries (Sold Separately)
***For Sealed AGM Batteries the Monitor Probe Attaches to Positive Terminal***
---
Best Heavy Duty Sump Pump
8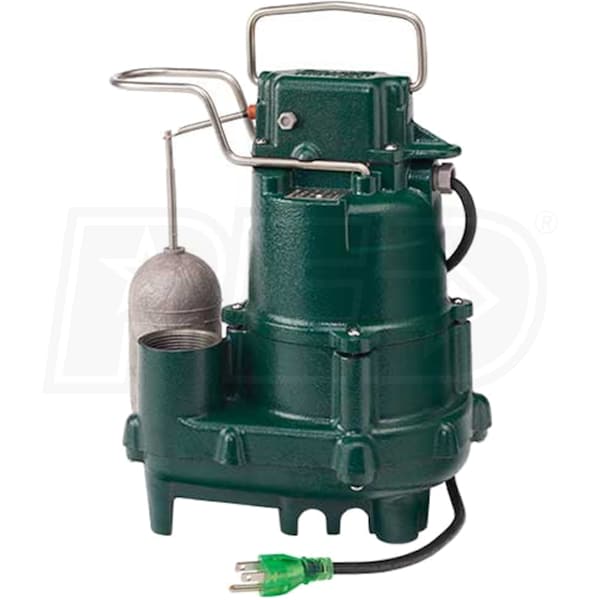 Features
Zoeller M95 Premium Series Automatic Submersible Sump Pump
For residential / light commercial dewatering, groundwater transfer & effluent
NEW For 2017 *5-Year Limited Warranty*
Attention to detail in this series for total reliability & trouble free performance
ALL CAST IRON (Motor / Pump Housing, Switch Case & Base)
Powder-coated epoxy finish for superior corrosion-resistance
Maximizes heat dissipation for cooler operation during extended periods
Polypropylene Float Operated Vertical Switch w/ Viton® Switch Boot
Zoeller's newest & longest lasting 2-pole mechanical switch
1/2 HP Permanent Split Capacitor 115V Motor (3450 RPM)
Energy efficient, only draws 10.5-Amps
---
Was this article helpful?